How to Download Facebook Videos in 2022
Table of contents
How to Download Facebook Videos on Android in 2022? Today there is hardly any internet user who does not know about Facebook! Almost all internet users like- friends, relatives, and others are using Facebook!
If you also use Facebook then you must have seen videos on Facebook. Whether it is a video shared by a Facebook page, group, or any other users! But many times, we find some interesting video on Facebook and we make up our mind to save it.
But does it happen that we can save Facebook videos directly to our device! No, because there is still no such feature given by Facebook! With which we can save that video directly in our mobile gallery.
So here the question arises whether there is any way that we can save that video on a mobile device??, Yes! If you are here and want to know the smart way to download the videos which users usually do not know!
So do read this article today till the end because here we are going to share cool Tips with you. With which you can easily download any Facebook video! Ok! if you are ready then let's start and know how to download Facebook video?
How to Download Facebook Videos?
1. For that, first, open the play store app on the smartphone. Now search here by typing "My Video Downloader for Facebook" in the search bar.
2. You will see many apps in the Results. But you have to install this app, whose screenshot you can see Above.
3. As you can see, the Ratings & Reviews of this app are also very good. So after successfully installing this app, Now open it.
4. After that first, you have to click on this login button and log in with your Facebook account.
5. After login from the account, go to the Facebook video you want to download and click on the three Dots you will see in front of the video.
6. Now you will have many options here! First of all, you have to click on the option of Save Video.
7. while doing so your video is not saved yet! Rather, the main work of this app starts from here, so that you will be able to save this Facebook video to your mobile device.
After that, you will now see a menu of 3 lines at the top of the left side here.
8. Now, all the options will appear in front of you! You have to click on the My Video Options, After that, there is an option of the Saved video in the next step, click on it.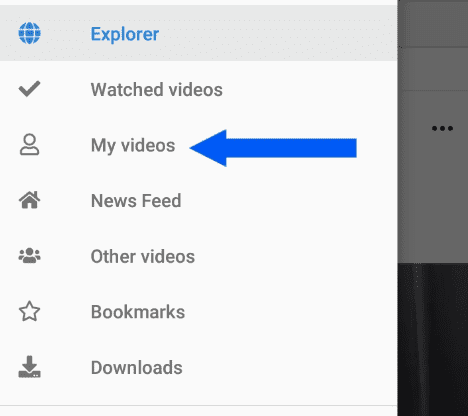 9. Now that video you saved will be seen here! you have to click on the Dropdown icon that appears.
10. After doing this, a download option will appear in front of you, and click on it.
So, guys, your video will start downloading! And now you can see that video in your mobile gallery.
So friends, through this app, you can easily download any video on Facebook! You can also download those videos which you like through this Amazing app.
So this was the way to download a Facebook video through the app! But often we avoid having any extra app on mobile, so if you want to download your favorite Facebook video without installing any app. here is the Amazing tips for you:-)
So for that, we also have a solution, for which you have to carefully understand the steps given below.
How to Download Facebook Videos Without Any App?
1. First of all, log in with your Fb account through the Facebook site or Facebook App.
2. And if you are already login, then go to the video which you want to save in the mobile gallery.
3. Now click on the three dots that appear in front of this video! And you will see many options in front of you. you have to click the copy link option.
4. Thus, the URL of your video has been copied to the clipboard. Now, first of all, open the web browser on your computer or mobile.
5. Now you have to go to this website called Getfvid to direct download your Facebook video. You can visit directly from the link given below!
6. After visiting the website, you will have to paste the URL of the Facebook video you just copied. As soon as you paste, click the download button below.
7. And now you will come to a new page, from where you can download this video in HD or standard quality, as well as convert this video to MP3.
8. Click on the Format in which you want to download this Facebook video. Your video downloading will begin.
And now you can watch this video in your mobile gallery!
So these are the best methods in which you can try to download any video on Facebook. & you can also use the Facebook mod apk to download Facebook videos on your smartphone. which way do you find useful Do share your thoughts in the comment box!
I hope you like this information. If you have any Confusion, Question-related about downloading Facebook videos, then feel free to comment!
Also, if you liked the information, then definitely tag all those friends on social media! Those you want to share these useful tips.