How To Create An Android App Without Coding
Table of contents
Today you can install or uninstall any app from the Play Store whenever you want! But have you ever wondered how you too can create your own android app? Of course, you can make your own Android App, making Android App is not very difficult, for this you just have to follow some correct steps. If you also want to know How To Create An Android App Without Coding? and publish it in Play Store! So this article today is only for you.
Earlier when we had to develop our own app for our online business or personal needs, then we needed an app developer. But in the online world today we can develop An app ourselves.
However, if you want to create an online shopping app or a professional app, then for this you may need an app development and Coding Skills. But if you want to make an app just for your online website or YouTube channel, then you can do it easily.
Let me tell you a thing that to develop such an app, you do not have to learn any special technical skills like coding! Therefore, by reading this article today, those users can also create their own app, which does not have much information on the subject of developing the app.
So if you are excited to build your first Android App, let's get started?
Have a look: How To Delete Pre-Installed Apps On Android (With or Without Root)
How To Create An Android App Without Coding?
Requirements for making Android app
Laptop Or Smartphone

internet connection

little efforts
1. First, go to your web browser! And visit this site called App geyser!
2. After that, here you will see a big button of "Create Now for free" click on it.
3. Now in the next step, you have to select what kind of app you want to create, choose the same type of template as the app you want to create!
4. Let's say we want to create an app for our online blog, then here we will click on the website option.
5. Now enter the URL of your website in the next step. After that, it will scan the content of your website. And click on the "click to preview" option. To see the article on your website in the app.
6. Now you can see how the look of your website will look in an Android app! After checking it, now Decide the name of your mobile app! And enter it.
7. Now in the next step, you will have to describe this app! For which you have to add some lines in the Description box. There is no limit of minimum words in the description, You can also type the description of only 2 lines.
8. After that, you have to choose the Icon of this app! If you want you can also use the Custom icon for your App.
9. After setting up the icon, hit Next. And after completing all the steps. Click on the big "Create button" shown below.
10. So congratulations! Now your android app is ready, but you have to create an account on the Appgeyser site to download and manage the App.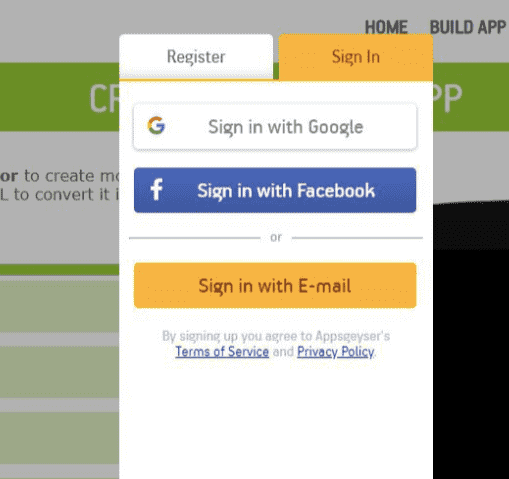 So in the next step, you have to signup by entering your email id and password! After which a link will come on your Gmail ID from App Geyser, the email address will be verified by opening that link.
So by doing this, your app geyser account has been created! Now you can manage your app as well as download it.
And yes if you are thinking that is this app can be published on Play Store? of course you can publish this app on Play Store.
And if you want to get complete information about publishing the Appgeyser app on the Play Store! you can tell us through the comment that we will soon bring the complete information of publishing an App on the play store
Apart from this, there are some popular platforms with the help of these sites you can develop your own app, so let's know about those best platforms.
Top sites for creating an android app or free
1. Appery.io
Appery is a Cloud-Based Mobile App Builder! With the help of this site, you can make not only your Android but also an ios app.
You will get a lot of plugins to customize the app, as well as you can create your own private plugins in it.
2. The App Builder
With the great user interface of App Builder, you will be able to create your own Android App in no time.
3. Appy Pie
This is a cloud-based DIY mobile app creation tool! If you do not have any kind of programming skills, this tool also allows you to create an app.
4. App Machine
One of the best platforms for making apps is the App machine, from here you can develop the app as well as you can publish it.
If you do not have any knowledge of app development, then you will be able to create your own Android/ ios app from Scratch Via this platform.
5. Bizness Apps
Friends, like the above platforms mentioned here, this platform also provides you many features to develop the app.
So friends, in Today's Article, you learned how to make your own android app in less than 5 minutes!
So why do you want to make your own app? Please share your thoughts in comments, I will be happy to know your ideas.
So if this article has been useful to you! do share the method of making an Android app to your close friends on social media.