How To Delete Pre-Installed Apps On Android (With or Without Root)
Table of contents
Hello, friends welcome once again to this new topic of today. Today we will know how to delete pre-installed apps on Android smartphones? As we all know today, smartphones have become the need of every human, and nowadays we see people using different types of smartphone brands.
It has often been seen that users are upset with their smartphones preinstalled apps (Generally These apps are also called system app of our smartphones) because when they buy a new mobile, it comes with different types of preinstalled apps which are often of no use to them.
In such a situation, a user wants to uninstall these pre-installed apps but how? They are not able to do this easily. So, today we are going to tell you the way by which you can easily uninstall pre-installed apps of your smartphone.
So if you are also facing the same kind of problem then today we will explain you step by step Guide. by this, you can delete Pre-installed apps of your smartphone forever.
So if you are ready, let's start without wasting a minute.
Guys, Before you know how you can delete pre-installed apps from your smartphone, before that it is important to know what are the advantages and disadvantages of deleting installed apps from your smartphone.
Benefits of deleting pre-installed apps From Smartphone!
◆ This helps to increase the internal memory of your phone, as pre-installed apps in smartphones use storage from 500 Mb to 1 GB on mobile.
◆ This is helpful in saving your mobile battery! Because of more apps in smartphones, these apps continue to work in the background. These apps consume the much battery of the mobile, so due to the deletion of these needless apps, it helps in saving the battery.
◆ There are many pre-installed apps like shopping and gaming apps in your smartphone, which also have an impact on the ram. So by deleting them, your RAM will be less used and you will get better speed.
The disadvantage of Removing pre-installed Apps from smartphones!
◆ When a user has permission to delete the preinstalled apps, sometimes this option proves to be harmful to him because they can Remove useless apps as well as the necessary system apps.
Then in this situation, Your smartphone can be dead, which will damage your phone forever.
◆ So if we look at its Main disadvantage is that even if the necessary system apps removed from your phone, then in that situation you will have to bear the loss.
Hopefully, after understanding the above advantages and disadvantages, you must have understood that it may be appropriate for you to delete free install apps or inappropriate,
so now let us know how are you going to uninstall Pre-installed apps from your mobile.
How To Delete Pre-Installed Apps On Android?
So friends, if you want to remove these system apps from your smartphone, then for that you have to root your mobile.
Because your mobile needs to be rooted to remove system apps, but here we will tell you through both methods how you can delete pre-installed apps on your root and without root Device
Requirements:
Rooted Mobile

Superuser APK
1. First of all, install Superuser apk in your Rooted smartphone!
2. After the app is installed, Now open this app on your smartphone. Now an icon of "Delete" will appear at the top of this app, click on it.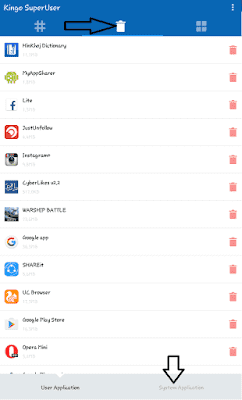 3. Then click on System Application below. By doing this, all the pre-installed apps on your smartphone will be visible to you!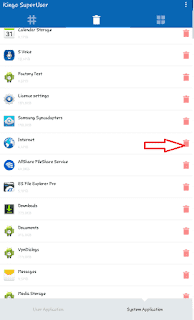 4. Now click on the delete icon that appears in front of the app you want to remove. Now click yes and give confirmation to uninstall that app.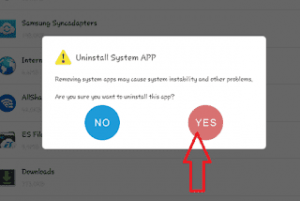 5. Done! After doing this, the pre-installed App has been removed from your mobile, you can check it on mobile Settings.
So, friends, this was the way you learned to delete system apps in your Rooted mobile.
How To Delete Pre-Installed Apps On Android? (Without Root)
But I know that most smartphones are non-rooted, so now we shall know how to delete pre-installed apps in Without Root Mobile.
Non-Rooted Mobile Requirements:
Debloater PC Software.

Android Version 4.4+

Enable USB Debugging In Your Android Phone.
1. For this, first, you have to go to the settings of your smartphone, and check whether the Developer option is showing in the Settings of your smartphone!
2. If not, go to Settings! Scroll and click on about option, then tap the Build number shown here 7 times. Now Developer Mode will be on in your smartphone.
3. After that first install Debolater Software on your computer. After installing, open this software on your computer. And connect your Android smartphone to the USB port of the computer via data cable. and enable the USB Debugging feature from Developer mode.
4. Now a screen like this will appear in front of you.
5. You have to click on the read my Device option, seen on the right side.
6. By which the computer will find system apps of your Smartphone.
7. And then you will see all the system apps of your smartphone in front of you! Select any system app you want to delete. And then click on the Remove option you see.

8. And as soon as you click on Remove, you will see that the System app has been deleted from your mobile forever.
Note- Please keep in mind whenever you delete an App during this method! So check that it is not necessarily a System App.
So, friends, this is how you have learned the way by which you can remove System apps without rooting your Android smartphone.
So how did you like this article! Please share your thoughts in the comments! Friends, if you have any questions, then ask in the comment below! We will be happy to help you.
Now if you have found this information helpful, then share it on social media. And help other friends to remove system apps from their smartphones.